Oborn's Townsend Garage, Beer, Devon
Garages in Great Britain were first introduced around 1900, so by the time William Oborn decided to start 'Townsend Garage' in 1922 the concept of a garage offering a range of services to the local community was well established and much needed.

William, also known as Len, had purchased a property in 1922 called Bluff Cottage which he and his wife Alice had lived in and with the use of adjacent land founded 'Oborn's Townsend Garage'. By 1924 he had obtained a Licence to keep petroleum spirit which was limited to the storage of 300 gallons in 2 gallon petrol cans. The 2 gallon petrol can was still the main way to fill a car with petrol but to offer an improved service he soon had arranged for a Shell hand cranked petrol pump to be installed and over the years that followed other petrol pumps were installed and upgraded which allowed a variable range of branded motor spirit to be offered to the public.
Early view of Garage
As well as petrol sales Townsend Garage offered chauffeuring and car hire facilities, mechanical services, used car sales, and subsequently new car sales through Austin and Morris dealerships.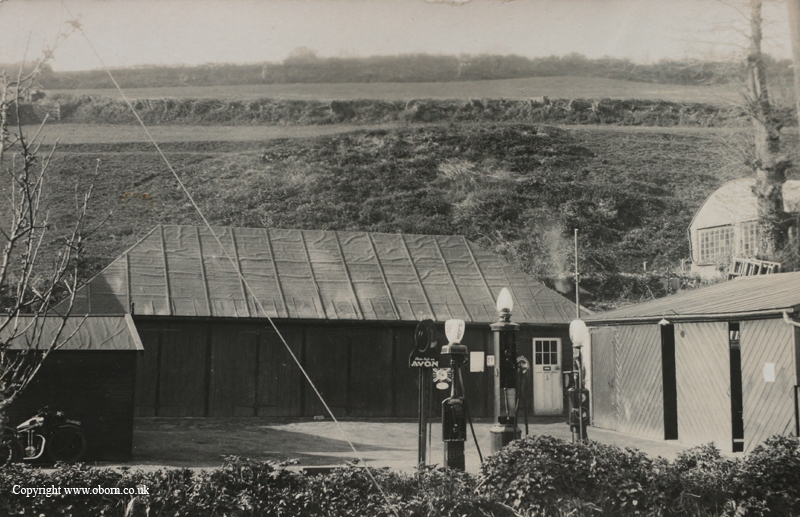 Garage expanding with an extra building at the back
The life of William Leonard Oborn
William, known as ' Len', was born at Lacock, Wiltshire in 1887 but the family were living at Midford, Somerset near Bath at this time. He grew up at Midford and on leaving school joined the Somerset & Dorset Railway but soon left and went to the Lanchester Car Works, Birmingham to train as a chauffeur and mechanic.

William's first driving licence was obtained at Bath on 21st August 1905 and letters from the Lanchester Car Company show at one time he was a chauffeur with a family at Sandbanks, Poole in Dorset. The photograph below dated July 1905 shows him in the rear seat of a Lanchester car registration number O 797 at Loch Lomond, Scotland. Also in 1905 he was chauffeur to gentry at Bath and whilst in that employment met Alice Tidcombe, who was employed as Cook. William and Alice married in 1909 and had two sons Stanley 1913 - 2004 and Gerald 1921 - 2010.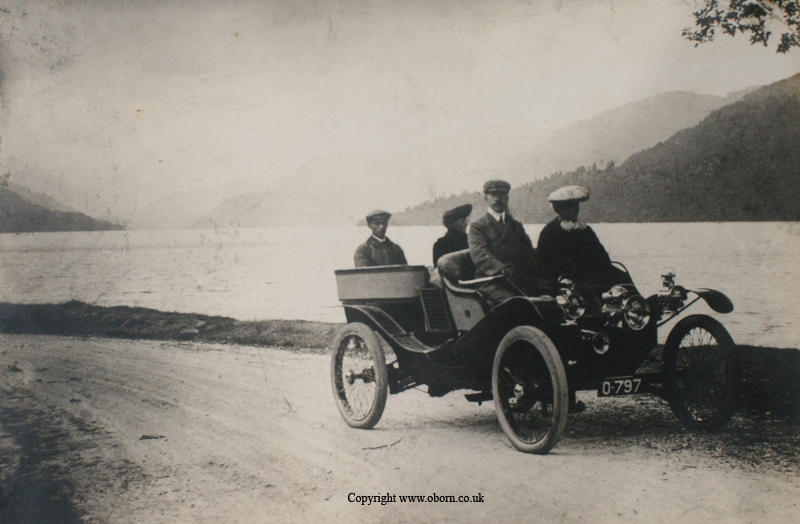 Lanchester Car at Loch Lomond 1905 - William Oborn is sat behind the driver
In 1911 William and Alice moved to the village of Beer in East Devon where he continued his chauffeur work with a local employer who by way of a generous benefaction, had a house built for them to live in and this property was named Bluff Cottage. Whilst it was a new start for them it was a period of great uncertainty for Europe as a whole and along with millions of others William's life and career was about to take a dramatic turn when he was called up at the outbreak of the great war in 1914.

He joined the army to become Lance Corporal 097921 and served in France as part of the British Expeditionary Force with the Motor Transport 257 company, 19th Division Supply Column. His specialist military qualifications included Heavy Lorry Driver and his duties involved the dangerous but important transportation of shells up to the front line using vehicles which had solid tyres and a top speed of around 35 miles per hour. Between 1915 and 1918 William was involved in many battles the main ones being at - Ypres, Arras, Somme, Mons and Marne.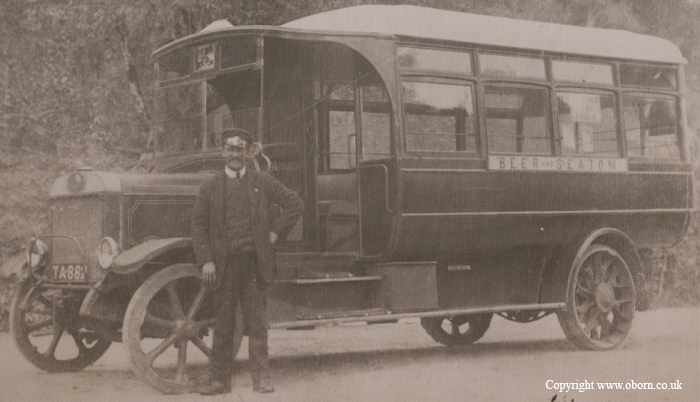 Pioneer Bus
Having survived the war William returned to Beer where he became the manager of 'The Pioneer Garage' owned by a Mr. Lewis of Newcut, London. This garage operated both lorries and buses so William's mechanical and driving skills were well suited to this type of business although it would only be a stop gap as his life was to move off in an adjacent direction. William had invested money in a Landaulette motor car which he offered for hire, and he had also invested more money in 1922 by purchasing Bluff Cottage together with some adjacent land and these investments coupled with his knowledge, skills and experience formed the foundation for 'Townsend Garage' a family business that was to last the next 55 years.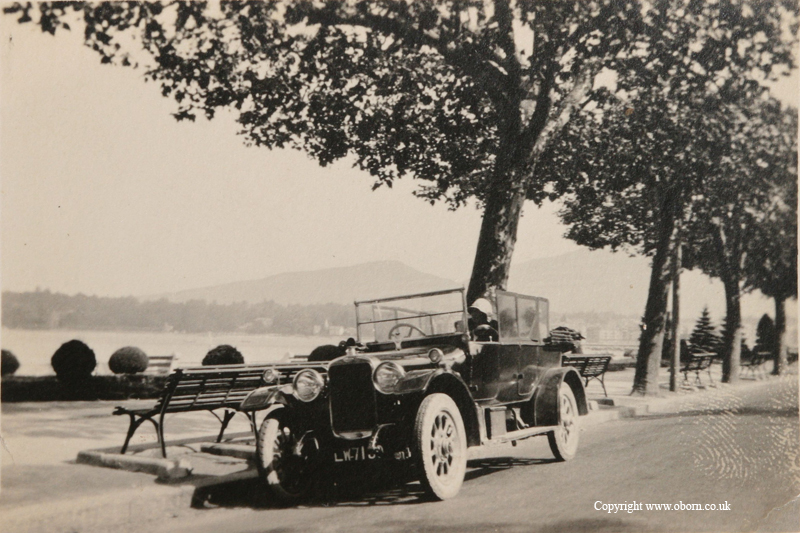 Sunbeam LW7150 opposite League of Nations, Geneva 1927
Chauffeuring was a profitable part of the business and in 1927 William undertook a 3 week motor tour of Switzerland in his Sunbeam 17 hp car, registered number LW7150 (photographed below). During which tour he drove 1600 miles escorting two ladies, a Miss Harrap who lived at a large house in Beer called 'The Bluff', and an unnamed female companion. Based on William's known charges of 1/3 per mile this commission would have grossed him around &pound100 + extraordinary expenses such as accommodation, cross channel cartage for the car and one particular expense of Insurance against forfeiture of customs duties (Carnet) .The Cover note issued by the Automobile Association shows that he had to pay a deposit of &pound125 with the premium being ten shillings. These were substantial sums in 1927 and gives some idea of the level of income that Chauffeuring could bring. Records also show that he later returned to Scotland when he undertook another motor tour in July 1937.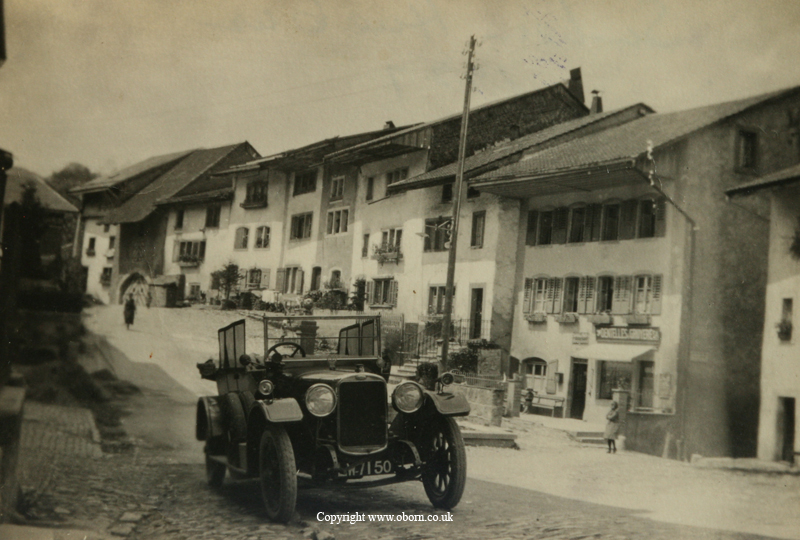 Sunbeam LW7150 Gruyere Village, Switzerland 11.5.1927
In the second world war William joined the Local Defence Volunteers and became a Sergeant in the Home Guard and after the war he took his sons Stanley and Gerald into partnership with him trading as W. L. Oborn & Sons, Townsend Garage, Beer. His business paperwork was headed with the 1905 Loch Lomond photograph and in addition to petrol, repairs and vehicle sales, the business also undertook private hire work such as weddings and funerals and used four Austin saloons for this part of their service.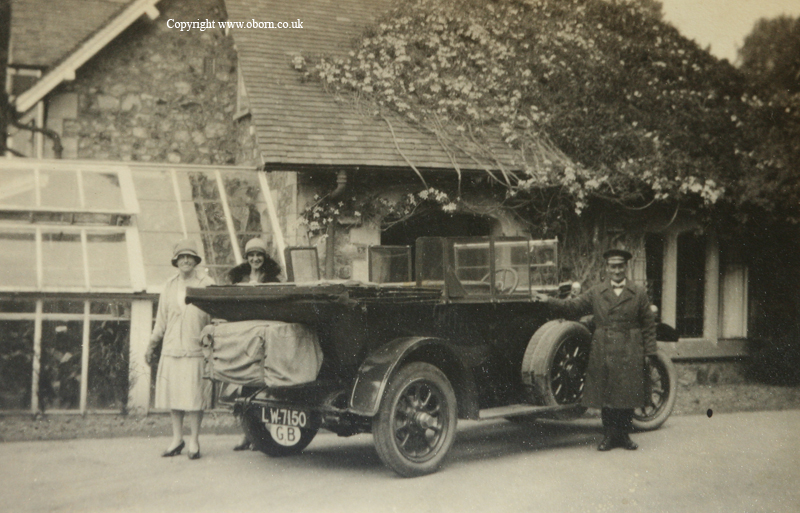 Sunbeam LW7150 W L Oborn, Miss Harrap & friend home again
William's other activities at Beer included running the Boy Scouts, whilst his wife Alice taught the Girl Guides and for a number of years he also did electrical installations and lit the first shop in Beer with electric light, that of the local baker Fred Hoskins. He built the first crystal wireless set in Beer, from instructions given on a set of cigarette cards, and introduced the first all mains wireless set at one of the village carnivals which he also retailed for a time.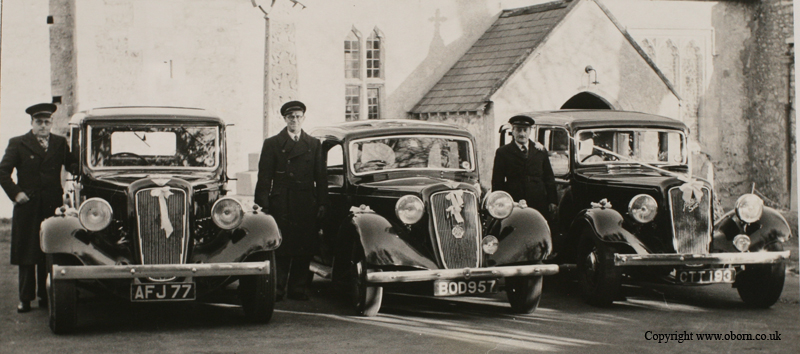 Wedding at Seaton Church with Austin Private Hire Taxis. Drivers: Stanley Oborn, Jim Priest, William Oborn
In 1971 after a very full and active life William Oborn died aged 84 years. His successes and adventures as a chauffeur, soldier, and businessman can all be traced back to the time when he left the railway to train at the Lanchester Car Works. His experiences and bravery during the first world war stood him in good stead for the rigours of running his own business, after all if he could be relied upon to deliver high explosive shells safely to the front line then he could certainly drive two ladies up mountains in Switzerland or help to keep cars in Beer running in tip top condition. After his death the business continued on for a few more years being run by William's sons, Stanley and Gerald, until 1977 when they took retirement and the business was sold. Townsend Garage was redeveloped in 2004 with four town houses being built on the site which was renamed 'Bluff Terrace'.